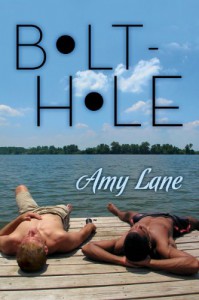 I am not a big fan of the interracial romance written from the Caucasian perspective. They tend to be more fantasy than fact. But, in the case of Bolt-hole...I think Amy Lane is brilliant. How a straight, white woman captured the thoughts and feelings of a black, gay man was fabulous.
A loved Terrell. He is like so many men that I know. Justifiably angry with little hope. But, rather than question Terrell's feelings, Colby is a steady stream of hope and love.
I also don't like interracial romances that dwell on race. But, again, Amy Lane dealt with real situations in ways that I did not find condescending or offensive. Regardless of their differences, the love that Colby and Terrell have is real and deep. Their friendship binds them and their respect for one another is tangible. Add in a heaping dose of hot sex and Bolt-hole is a must read for anyone who loves HEAs with a touch of suspense.
I hope that, even if it's not a whole book, Ms. Lane lets us revisit these two in the future. I'd love to get the full picture of their Happy Ever After.